Ultra Worldwide Presents A Spectacular Experience in Taipei, Taiwan
ROAD TO ULTRA 2020 TAIWAN REVEALS ARTISTS SET TIMES
UMF TV WILL STREAM THE EVENT AS THE ONLY ULTRA LIVE STREAM IN 2020
ULTRA WORLDWIDE presents A Spectacular Experience in Taipei, Taiwan
DAJIA RIVERSIDE PARK
14 November 2020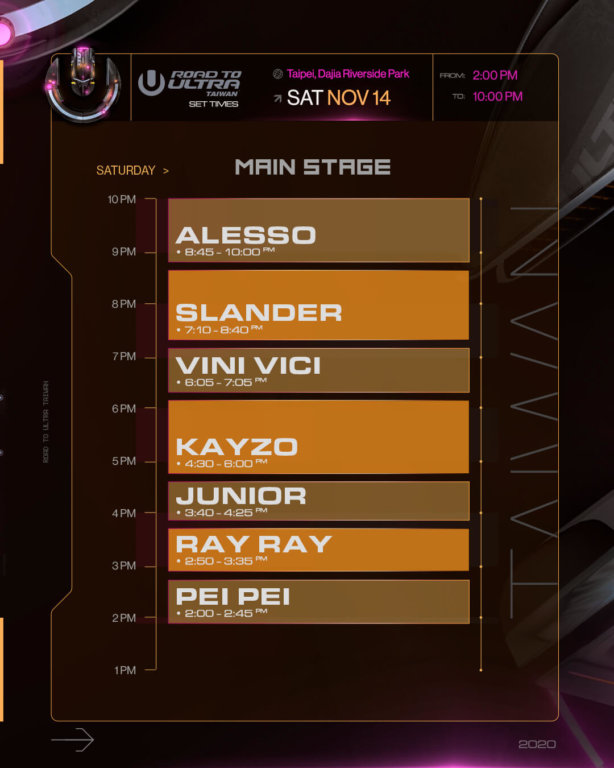 Tickets on sale here.
WATCH THE ROAD TO ULTRA 2020 TRAILER
Taiwan, November 2020 — ULTRA WORLDWIDE, the world's largest music festival brand, will return to Taiwan after a one year hiatus with its signature event series Road to Ultra.
Since 2014, Taiwan's Road to Ultra has hosted superstars such as The Chainsmokers, Martin Garrix, and DJ Snake.
This year's festival will be headlined by Swedish progressive house maestro Alesso, who will close out Road to Ultra Taiwan with his boisterous, vocal-driven records. Leading into Alesso's finale set will be a "heaven trap" performance from LA-based duo Slander, a psy-trance set from Israeli production pair Vini Vici, and a breakneck performance of trap, hardstyle, and bass from America DJ Kayzo. Regional support acts include Junior, RayRay and Pei Pei will be on opening duties, warming up the crowd with their local flavors of electronic stylings.
From the unparalleled production and pulsating audience energy, Road to Ultra Taiwan 2020 takes pride in curating an all-encompassing entertainment experience for music aficionados. The varietal cuisine selections will include Taiwanese and American street food like Stinky Tofu, Fried Cuttlefish Balls and burgers. Attendees can capture the magic of the event by snapping photos in front of the LED ULTRA sign decorations and graphic art wall created by Taiwanese designers.
Road to Ultra Taiwan will broadcast the event's magic around the globe, live-streaming the DJ's performances via the UMF TV YouTube channel which boasts 1.63 million subscribers.
The final tier of Road to Ultra Taiwan 2020 GA and VIP tickets are on sale now! GA ticket prices will increase at the door, so purchase yours today.
For tickets and more information, visit the official website.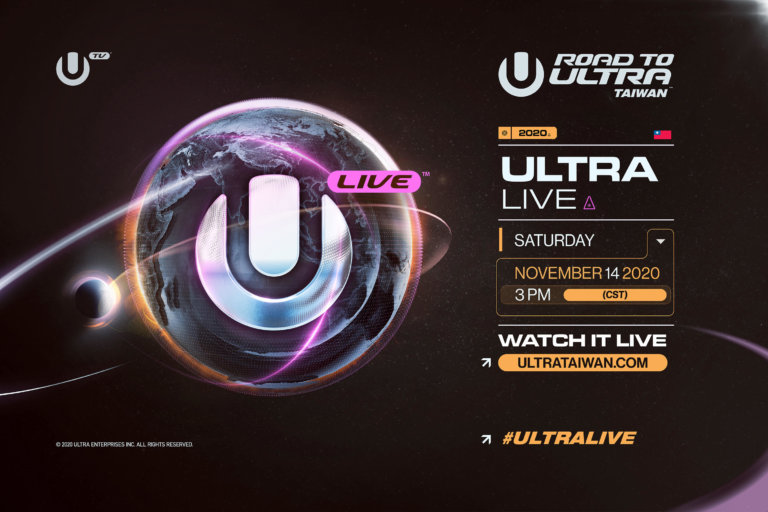 RTU Taiwan 2020 Lineup Set Times
Pei Pei: 2:00PM to 2:45PM
RayRay: 2:50PM to 3:55PM
Junior: 3:40PM to 4:25PM
Kayzo: 4:30PM to 6:00PM
Vini Vici: 6:05PM to 7:05PM
Slander: 7:10PM to 8:40PM
Alesso: 8:45PM to 10:00PM
More information about ULTRA Taiwan can be found on the official Facebook, Twitter and Instagram pages.