ULTRA BEACH Costa del Sol to Debut June 2020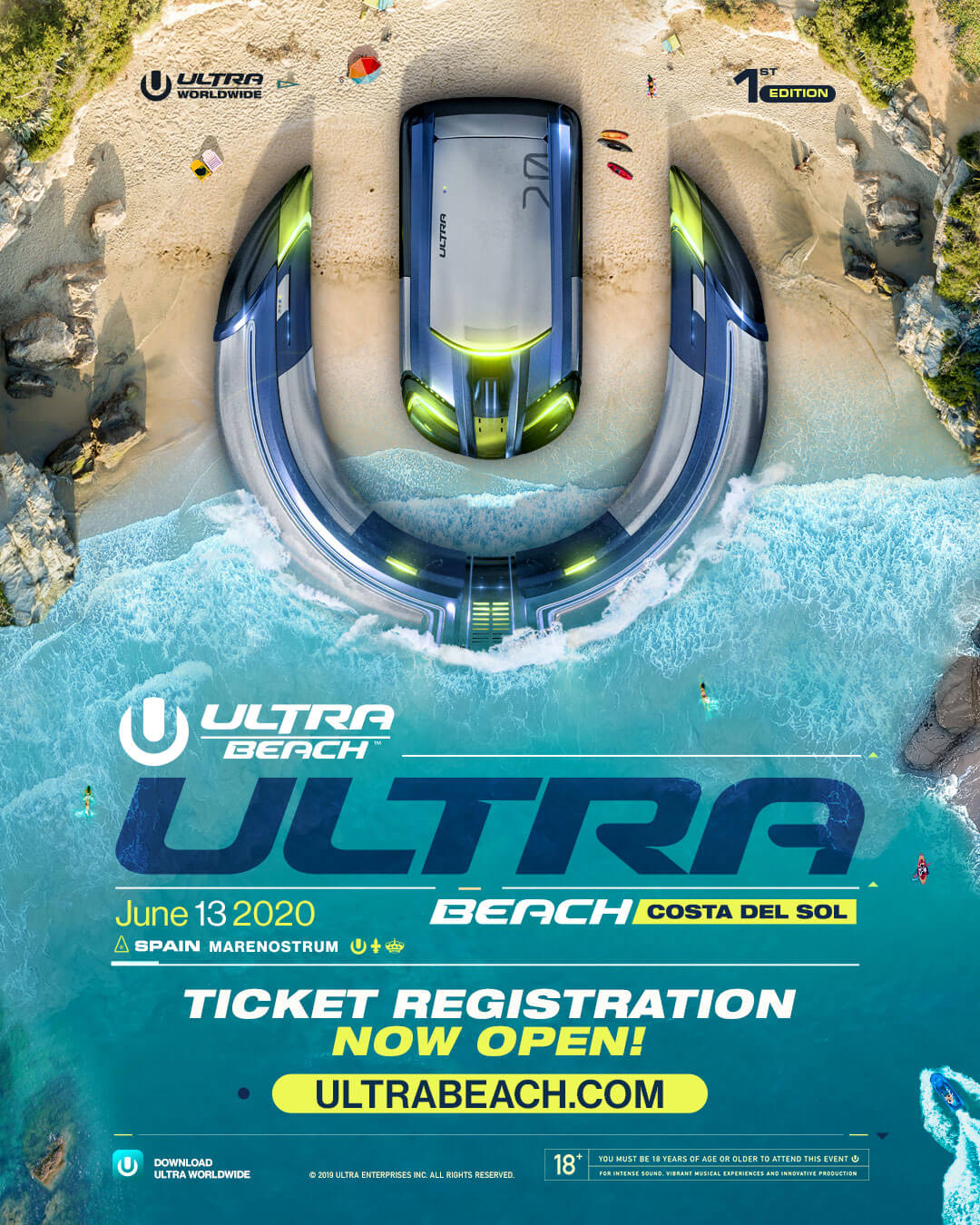 COSTA DEL SOL – SATURDAY, JUNE 13 2020
MARENOSTRUM, FUENGIROLA
ULTRA Worldwide, the world's largest music festival brand, produces events on all six inhabited continents and will now bring their ULTRA BEACH edition to Costa Del Sol next summer.
ULTRA BEACH is a boutique waterfront event concept that has welcomed tens of thousands of fans to events in exotic coastal locations around the world, from Croatia to Bali, and will touch down at the beautiful Marenostrum venue in Fuengirola on June 13, 2020. ULTRA BEACH COSTA DEL SOL will be a one-day marathon event showcasing the hottest electronic music acts and mesmerizing stages constructed with cutting-edge technology. The Main Stage will be located on the idyllic shores of Costa Del Sol's beach backed by the Mediterranean Sea, while ULTRA's award-winning, underground techno and house music concept RESISTANCE will host a stage at the Sohail Castle.
ULTRA BEACH COSTA DEL SOL is the perfect way to kick off a musical summer helmed by ULTRA EUROPE which will again descend on Croatia for its eighth annual edition July 10 – 12. Europe's premier destination music festival, ULTRA EUROPE, drew upwards of 120,000 revelers earlier this summer to the new, more expansive Park Mladeži in Split. ULTRA EUROPE was flanked by a week of beachfront parties and boat day soirees as part of DESTINATION ULTRA's programming. Tickets for ULTRA EUROPE 2020 are on sale now at ultraeurope.com
Since its inception in Miami in 1999, Ultra Music Festival has grown into an internationally-renowned, three-day event that showcases top-tier electronic music acts and unparalleled production every March. In 2008, ULTRA began transporting the unrivaled experience from the Miami flagship festival to destinations around the globe with ULTRA Worldwide. The brand produces has hosted events in 29 countries including Argentina, Australia, Brasil, Chile, China, Colombia, Croatia, India, Japan, Korea, Mexico, Singapore, South Africa and so many more. Each new global edition has been founded on the same successful recipe that has been perfected over more than 20 years in Miami, combining the most diverse electronic talent with the most technologically advanced, large-scale festival productions in the world.