ULTRA Australia Announces Phase 2 Lineup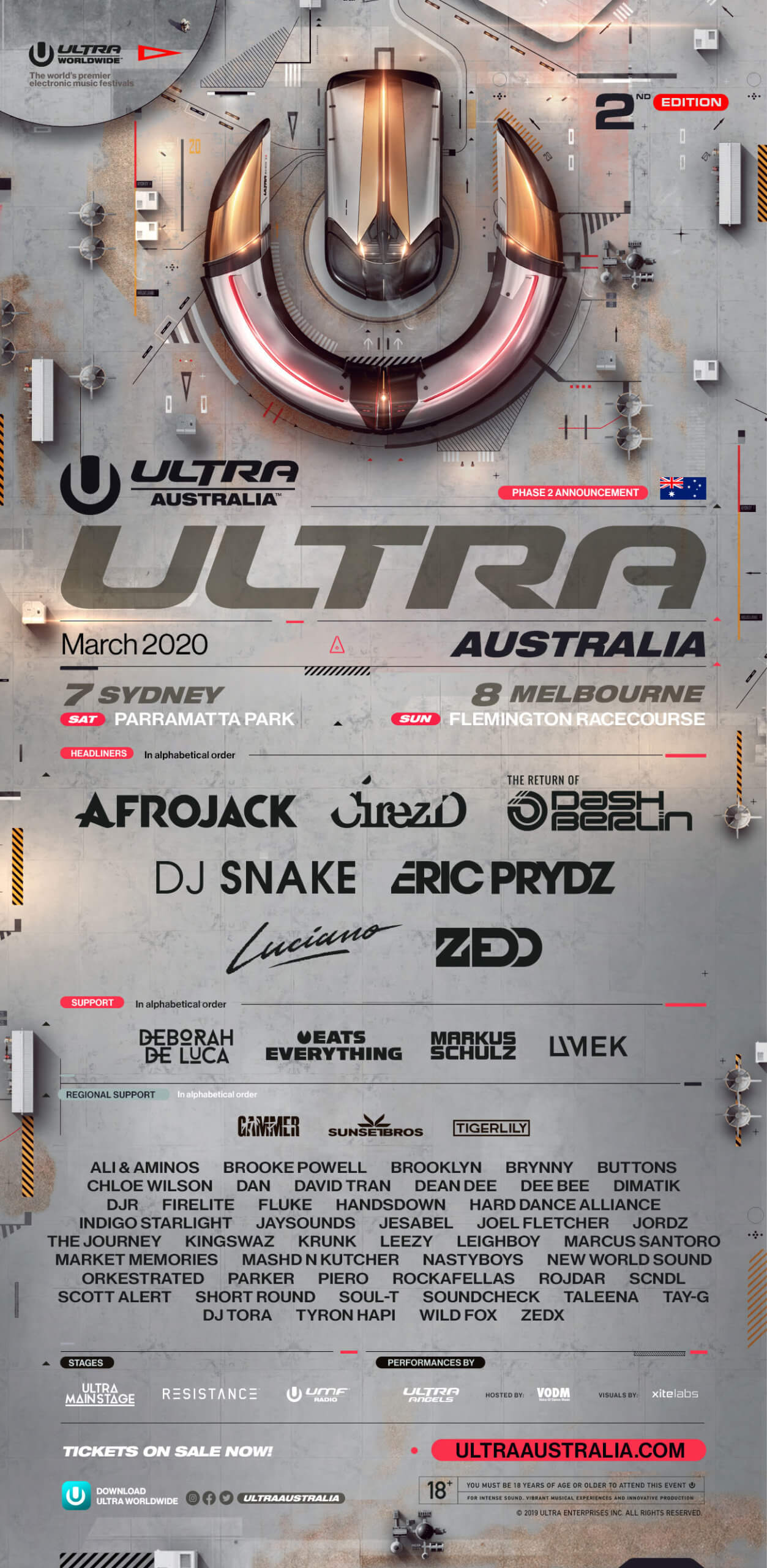 SYDNEY – SATURDAY, 7 MARCH 2020
PARRAMATTA PARK
MELBOURNE – SUNDAY, 8 MARCH 2020
FLEMINGTON RACECOURSE
After announcing their huge lineup of international heavyweights last month, ULTRA Australia has released their epic phase 2 roster of international and local artists that will be joining the festival in March 2020.
Joining the international elite is the highly acclaimed Markus Schulz, the U.S German DJ and three-time winner of DJ Times' America's Best DJ crown will be bringing his progressive, trance, house style and club hits to the main stage.
Gammer is a highly sought-after DJ and producer who originally made a name for himself in the UK hardcore scene. In recent years, Gammer has been diversifying his sound and is one of the most prolific DJs in trance and hardstyle. Gammer has received many awards including the coveted 'Best Hardcore DJ' award for 6 consecutive years and is expected to be a crowd favourite at the event this year.
DJ, Producer and artist, Tigerlily finds herself among Australia's elite performers and top tier DJs. A mainstay across the biggest festival and club stages in both Australia and around the world, Tigerlily is no stranger to the global music community. After her track "Invisible Children," was released through dance music mega-label SPINNIN RECORDS, reaching #1 on the Overall Beatport chart for multiple weeks, Tigerlily continues to tour globally covering all bases across USA, EUROPE and AUSTRALASIA.
APRA award winning and multi-platinum selling artist, Joel Fletcher alongside the superstar DJ Duo Sunset Bros, Mashd N Kutcher, Jesabel, Rojdar, Chloe Wilson, Brynny, young guns Tyron Hapi and Firelite, JaySounds, Marcus Santoro, Orkestrated and more (full list below) will also bring their impressive performances to the ULTRA Australia stages.
ULTRA Australia will return to Parramatta Park in Sydney on Saturday, 7 March 2020 and to Flemington Racecourse in Melbourne on Sunday, 8 March 2020, on the public holiday weekend in Victoria. The festival will once again feature both the mammoth Main Stage, and the hub of underground sounds with the RESISTANCE Stage. Tickets are on sale now at ultraaustralia.com
ULTRA AUSTRALIA 2020 LINEUP
HEADLINERS (IN ALPHABETICAL ORDER)
AFROJACK
CIREZ D
THE RETURN OF DASH BERLIN
DJ SNAKE
ERIC PRYDZ
LUCIANO
ZEDD
SUPPORTED BY
DEBORAH DE LUCA
EATS EVERYTHING
UMEK
ADDITIONAL SUPPORT
MARKUS SCHULZ
GAMMER
TIGERLILY
ALI & AMINOS
BROOKLYN
BRYNNY
BUTTONS
DAVID TRAN
DEAN DEE
DIMATIK
DJ DAN
DJ TORA
DJR
FIRELITE
FLUKE
HARD DANCE ALLIANCE
INDIGO STARLIGHT
JAYSOUNDS
JESABEL
JOEL FLETCHER
JORDZ
KINGZWAY
KRUNK
LEEZY
MARCUS SANTORO
MASHD N KUTCHER
NASTYBOYS
NEW WORLD SOUND
ORKESTRATED
PIERE BRB CHLOE WILSON
ROCKAFELLAS
ROJDAR
SCNDL
SCOTT ALERT
SHORT ROUND
SOUL-T
SOUNDCHECK
SUNSET BROS
TALEENA
TAY-G
TYRON HAPI
ZEDX